Bike holiday in Carinthia
in a fantastic setting
GenussBiking at the Millstätter See in the 4* bike-hotel Moserhof
Discover the lake Millstatt on two wheels.
Whether demanding mountain bike tour in impressive scenery, mountain trails through forests and alpine meadows or leisurely MTB route with panoramic views of Lake Millstatt, Carinthia is a true paradise for mountain bikers.
Leisure cyclists will find cozy cycle paths along the Millstätter See with countless benches to rest; and with many villages such as Millstatt, Dellach or Döbriach waiting to be discovered.
And those who would like to combine cycling and swimming can stop in one of the many bays or after your bike ride jump into the cool water of the Millstätter See with drinking water quality.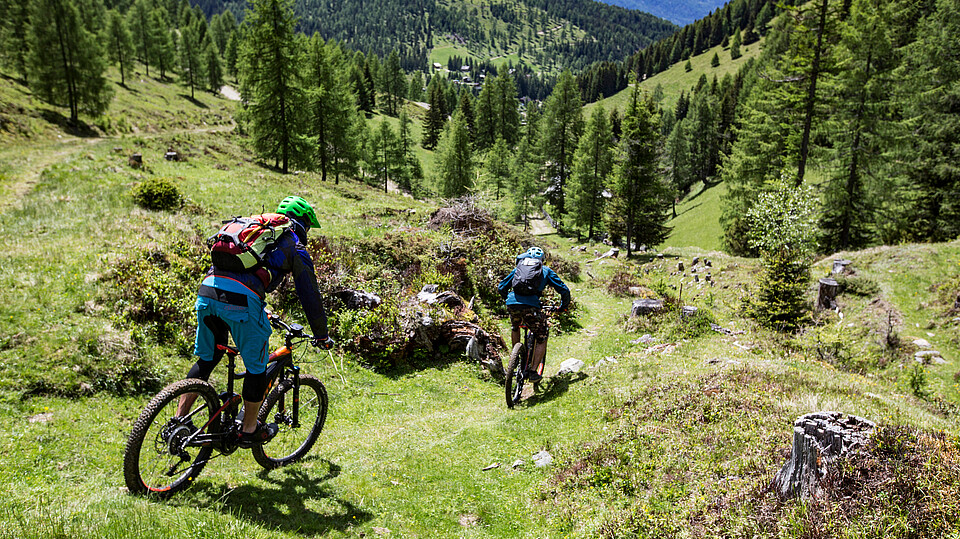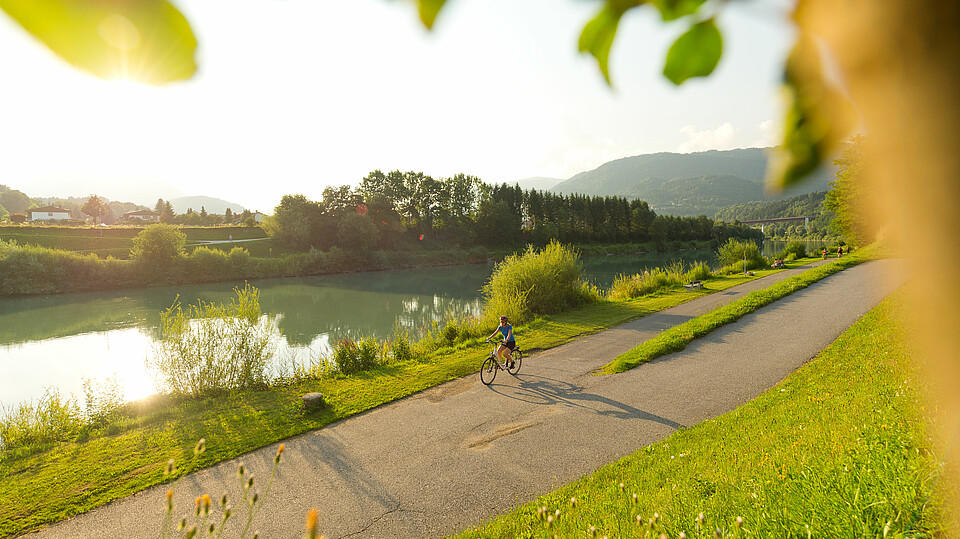 Bike-hotel included services in the Moserhof for bikers
Bike garage, repair and laundry facilities, spare parts warehouse
Return service for technical defects
Extensive map material for the region around Lake Millstatt
Moserhof backpack for the duration of the stay
"Sports Pharmacy" (blister plaster, gel for muscle soreness ...)
Daily athlete drink to go
All-day apples for free picking
We are a certified nock/bike member hotel in the area. In the region offers 750 kilometers of trails through the gentle alpine world, such as fast-paced nature single trail and Europe's longest flow country trail.



Cycling & Biking in Carinthia – our Moserhof insider tips for your bike tour at the Millstätter See
Are you planning a leisurely bike ride with the family, a bike ride around Lake Millstatt or a demanding mountain bike tour with your bike friends?
We, your hosts Ihre Gastgeber Franziska und Gerhard Moser-Winkler, are happy to air our insider tips for your individual mountain bike or road bike tour.
Because one thing is certain when cycling in Carinthia on Lake Millstatt: it is the right thing for every taste and every skill!
Here are a few insider tips for your cycling holiday in Carinthia at the hotel Moserhof:
Millstätter See cycle path
In just 28 km you cycle directly from the Hotel Moserhof around the lake. Experienced cyclists make the route in two hours. But take your time and enjoy all the beauties that the circular cycle path has to offer.
Our Moserhof tip: You can ride the Millstätter See circular cycle path comfortably with the e-bike.
Currently, the range of an e-bike battery is around 140 kilometers. With that distance you cycle five times around Lake Millstatt or tackle the first three stages of the Drauradweg. Numerous e-bike charging stations along the route ensure that your e-bike ride always continues with a full battery.
Drauradweg – Drau cycle path
The Drauradweg, well known far beyond the borders of Carinthia and Austria, leads from the origin of the Drau in the Toblacher field in Italy 366 km along the Drau through East Tyrol and Carinthia to Marburg in Slovenia. The division into individual stages enables an exciting cycling experience for the whole family. So the Drauradweg is suitable for children in many stages as well as for sporty cyclists.
Tip: Get more information about the stages of the Drau Cycle Path directly at our Moserhof, the top bike hotel in Carinthia.
Mountain bike tour to the natural jewel Egelsee (Nockbike 37)
The bike tour to the Egelsee is an ideal beginner's tour for experienced bikers and a special nature experience on the southern shore of Lake Millstätter See.
You start directly from the Bike Hotel Moserhof across the beautiful Seebodener bay. Here you drive briefly on an asphalt road along the southern shore of Lake Millstätter See, then turn right onto a gravel road.
On beautiful root paths and gravel roads you reach the Egelsee after about 6 kilometers. This natural bog lake is a special natural jewel and a popular destination in Carinthia and the region around Lake Millstatt.
Continue alternately on gravel and asphalt roads over the long ridge of the Wolfsberg with magnificent panoramic views of Lake Millstatt and the Drau valley.
Our Moserhof tip: Take a rest in the tranquil village of St. Wolfgang with the beautiful church on the Wolfsberg, which is mentioned for the first time between 1177 and 1187.
Tour data:
altitude difference: 455 m
Hightest point: 838 m
distance: 18.2 km
cycle time: ca. 2:45 hours
endurance: medium
difficulty: medium
More detailed information and maps for this mountain bike route can be obtained directly from us at the Bike Hotel Moserhof (Nockbike Karte Nr. 37).
Did you know that cycling involves around 50 percent of our muscles?
Active kicking strengthens our leg, calf and gluteal muscles and improves our endurance without overly straining the joints. An average cyclist weighing 70 kilograms burns up to 1000 kilocalories in a two-hour bike workout.
Proper cycling is important:
What is my position when cycling? How do I set my saddle and handlebar? And how do I kick and brake properly? Austria's public health portal (Gesundheitsportal Österreichs) offers valuable tips on cycling.
Your bike holiday at the Millstätter See in the Moserhof, the top bike hotel in Carinthia
Would you like to discover the mountain world around Lake Millstatt on a mountain bike and enjoy the tranquility of the mountains in the National Parks Nockberge and Hohe Tauern?
Or do you really forget about racing cycling in Austria and let the mountain scenery around Lake Millstättersee affect you?
Take a look at our packages, send us a non-binding inquiry or book directly online your next cycling holiday at the 4* Genusshotel Moserhof.